One of the key determinants of the fate of nanomaterials in the environment is how they move through rivers. Within the gridded NanoFASE water-soil-organism model, rivers are split up into a number of linked "river reaches", the conceptual model for which is shown below. Each reach has a bed sediment, which is documented separately.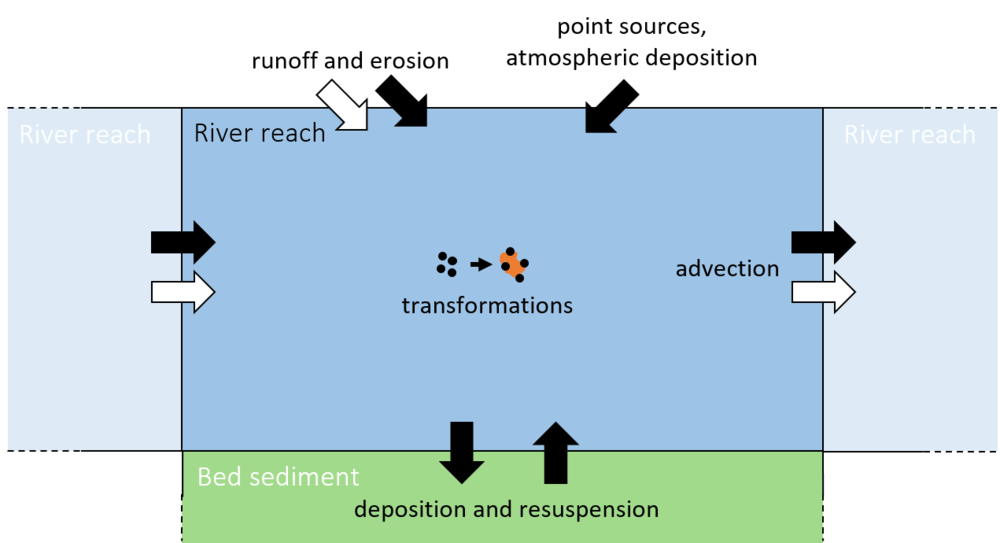 Conceptual model of river reaches and their bed sediments within the NanoFASE water-soil-organism model
A number of processes transfer water, sediment and/or nanomaterials to/from each reach:
Nanomaterials within each reach can undergo certain transformations, which change their form or state: (i) Heteroaggregation to suspended sediments; (ii) Dissolution; (iii) Chemical alteration such as sulfidation or oxidation. This list of transformations is not exhaustive and the model is flexible enough to allow other transformation processes to be added. Certain processes will not be relevant to particular nanomaterials, and so the user can choose which processes should be modelled.
Contact
Sam Harrison
Centre for Ecology and Hydrology (CEH)