To the enjoyable retirement years: Alison Crossley's Farewell
NanoFASE would like to thank Dr Alison Crossley, our WP1 Leader, for all the good times together and all valuable contributions to the project. Thank you for the hard work and dedication to achieving the project's Exposure Assessment Framework. Your expertise let us complete the famous Clickable Framework in style!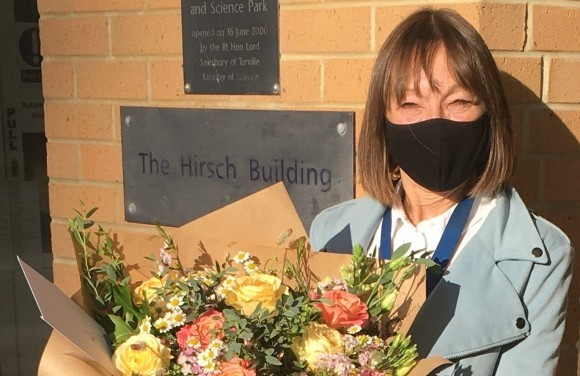 We wish you an enjoyable ride into your very active retirement!
Have a look at what the University of Oxford, Department of Materials has to say about Alison...
Alison Crossley marked the end of two decades working in the department. She gave leadership and huge technical expertise in shaping the Oxford Materials Characterisation Service. This was a very forward-looking enterprise that is still a great success for the department, in large part due to excellent stewardship from Alison.
We wish you well, Alison, and hope you continue to visit and work with us.
...and her great reply.
Thank you all for your warm wishes. It seems like you won't mind if I appear around the department every once in a while!
I moved to Begbroke Science Park in December 1999 at the invitation of Brian Cantor, then HoD. Brian wanted to expand the department's large-scale processing facilities at Begbroke, but was also keen to foster a dynamic environment by populating the site quickly with industrial partners aligned to materials research.
I was running a materials characterisation business unit for AEA Technology at Harwell at this time, and the future as part of a privatised business was uncertain, so moving to Begbroke was an interesting opportunity, and one I was not going to turn down. Not all of the team were as enthusiastic, but various incentives (including free coffee and the promise of an outstanding chef) were enough to convince them to come with me. With the help of Graham Dixon-Brown, head of the department's technical support team, we moved smoothly into the Hirsch Building and were operating all our equipment within a week.
As well as providing commercial services, we worked with researchers from Materials and other departments, building on established collaborations and forging new ones. In 2002 we became part of the Department of Materials by 'spinning-in'. This unusual business orientated arrangement was facilitated by Chris Grovenor and involved the purchase of our equipment from AEAT by the department, repaying this 'investment' within our first year of trading as Oxford Materials Characterisation Service (OMCS). or this to be a viable activity, slick operation was imperative and, together with Departmental Administrator Rosie Plummer and Legal Services, we produced a one-page quote template with standard terms and conditions, which I could then tailor to each enquiry and issue promptly. Over the years other departments have tried to copy our model, but without the same success.
Differentiating the objective of OMCS from other core research facilities in the department was key. We used commercially generated income to maintain a range of equipment and technical expert staff utilising spare capacity by researchers. The rest, as they say, is history. On a couple of occasions I feared I was going to bring the University into disrepute by customers refusing to believe (or misinterpret) results, but avoided this with the help and reassurance of Chris Grovenor and Legal Services.
Being based at Begbroke had many advantages, not least exposure to a new customer base of neighbours of start-ups and spin-outs and investment from the UK micro nano initiative to create a centre of excellence in nano metrology. The department was supportive and allowed me to operate with trust and freedom. I'm not sure anyone really knew what I did day-to-day, and one day I may reveal some of the adventures! As well as managing the commercial services, I participated in projects in each EU research framework which took me on many fun trips around Europe. If travel expenses were paid, I rarely said 'no' to an invitation to speak at meetings or sit on a committee. This gave our operations publicity, as well as expanding my personal network.
I have had the opportunity to work with wonderful scientists around the world and meet so many interesting and influential people. I once exchanged business cards with the Uzbekistan ambassador to the UK, who was visiting Begbroke, and found myself invited to celebrate the Spring Festival in the embassy in Holland Park.
I've particularly enjoyed reconnecting with previous friends and colleagues I've gathered along the way when they've appeared in the department or at Begbroke. Teams and Zoom meetings are efficient, but are no replacement for getting to know people face-to-face.
Spectroscopy as a speciality suited my busy life. Scan times were longer, so multi-tasking was easier. 'Can you please switch this off when my scan finishes' I found myself saying frequently - so thank you, especially to those who turned down the high voltage for me and supported me in other ways. I greatly admire microscopists who have to pay more attention to their data collection.
There is a current mantra that if you can't see it, you can't be it. Based on my experiences, my 'job' here was not on the short careers advice lists for boys and girls at my school. Identity is an issue today and I'm proud of being considered a role model for women in STEM. I'd be lying if I said I hadn't felt the odd grievance over inequalities, which may be more nuanced now, but still exist. It is hard combining a family and a career. Childcare is more expensive than it was when I needed it - if I'd been fined £1/minute for every late collection I would have been bankrupt.
I was the only girl doing science in the sixth form of my small co-ed comprehensive school in Cumbria. I was keen to go to university, and I chose chemistry. There is no doubt that I was a beneficiary of Harold Wilson's Labour Government policy 'white heat of technological change' (a short history lesson of the sixties). I was the only girl in the research group at Liverpool for my PHD.
I identified as a surface scientist like the rest of the group then, and still do, although I've gathered other descriptors along the way, and my focus is now shifting back towards my family - and my road bike!
I wish you all the best, and look forward to seeing you in person when times allow.