Small Company, Large Impact: Promethean Particles at CHEMUK 2019 Expo
Earlier this month, Promethean Particles Ltd. exhibited at the CHEMUK 2019 Expo in Harrogate, UK. The 2-day event -the first year of its running – took place on the 1st and 2nd of May and saw over 2,100 visitors attend the tradeshow; this was on top of the 360 exhibitors present from 170 different companies.
Promethean's Research Scientist, Dr Jack Turner, presented a talk on their capabilities in the industrial-scale manufacture of nanomaterials, as well as the development work on Metal Organic Frameworks (MOFs), within the European H2020 Project, CARMOF.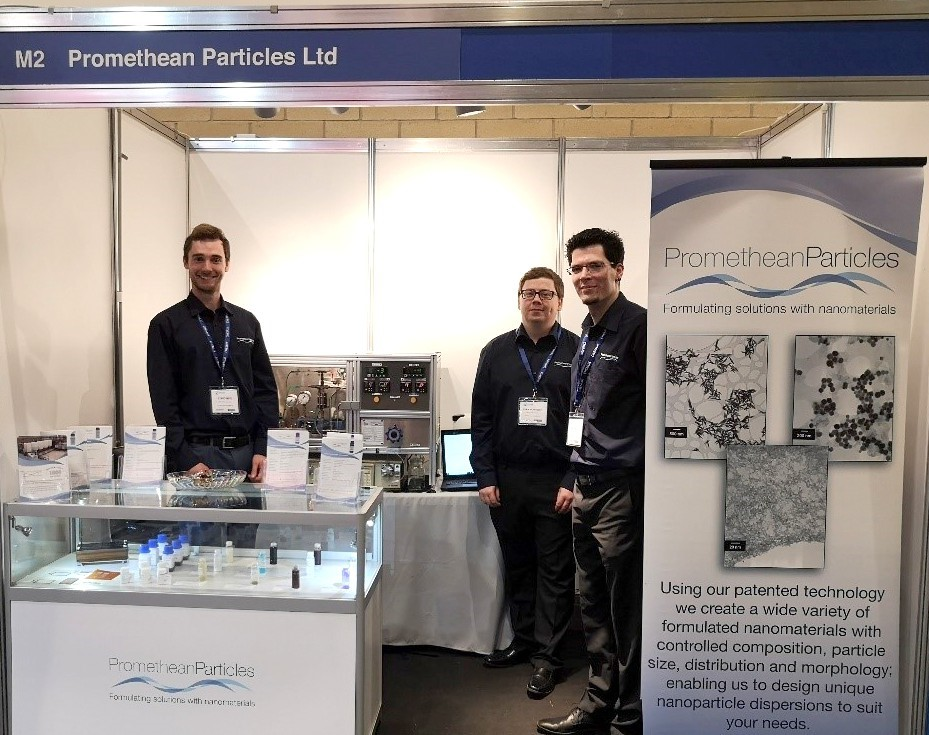 Promethean's exhibition booth at CHEMUK 2019 Expo
PROMETHEAN had their lab-scale reactor systems to demonstrate the novel process, as well as various samples of nanomaterial products including Zirconium Dioxide (ZrO2), Cerium Dioxide (CeO2), Copper (Cu), Nickel (Ni), Hydroxyapatite (Ca10(PO4)6(OH)2) and a selection of our MOFs (ZIF-8, ZIF-67, CPO-27(Ni), CPO-27(Zn), and HKUST-1) at the exhibition booth.
Dr Selina Ambrose, Technical Manager at Promethean Particles and NanoFASE industry partner, represented NanoFASE during the expo. Promethean Particles provides large-scale amounts of ENMs to various research partners in NanoFASE for the fate and exposure assessment, ensuring particle provision is closely aligned with industry materials. Promethean's unique manufacturing technology produces dispersions of nanomaterials, rather than dry powders. The liquid-state products mean there aren't the inhalation or exposure risks associated with fine particulates, as there are for dry-powder techniques. Moreover, the dispersed nanoparticles are less likely to aggregate than in dry powder form, meaning easier downstream formulation and better performing products. Check out Promethean's online nanomaterials store: https://www.prometheanparticles.co.uk/shop/